03 Nov

13 Posture Tips for People Who Sit at Desk Jobs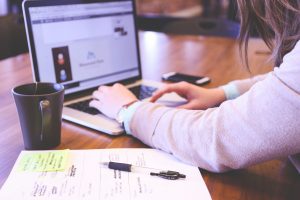 Americans are paying the price for a sedentary lifestyle. Research has linked sitting for a long period of time with a number of health concerns including obesity, increased blood sugar, increased blood pressure, excess body fat around the waist, abnormal cholesterol levels, and an increased risk of death from cardiovascular disease and cancer.
Sitting in front of a TV is not the only concern here. Workers who sit in front of a desk or behind the wheel to earn a living are at the most risk. Why? Because research suggests that even if those individuals spend all their free time doing moderate to vigorous activity, it doesn't affect the increased risk of sitting all day.
The obvious solution to this is simply to move more throughout the day. If you're stuck at a desk job, stand up or walk whenever you can.
Stand while you are talking on the phone or eating lunch.

Try a standing desk. If you can't afford a real standing desk, check pinterest for some cool hacks or find a high table or countertop to improvise.

Instead of congregating in the conference room for meetings, talk your colleges into walking laps with you.

Take the stairs instead of the elevator.

Be creative. Whenever you get a chance to move, take it.
When you are sitting, it's important that your posture is on point. Sitting at your desk like a contortionist or a pretzel can lead to a lifetime of injuries including carpal tunnel syndrome, neck pain and tennis elbow.
Your desk chair should support your spinal curve.

Your should be able to relax your shoulders and keep arms at a 90 degree bend.

Adjust your chair height so that your knees are about level with your hips.

Your wrists should be straight with your hands at elbow level.

Your monitor should be about arms length away from your face.

Make sure key objects that you use often are easy to reach.

Stand up to retrieve items out of your reach.

Your feet should be flat on the floor at a comfortable 90 degree bend.
Sitting for eight hours a day can be devastating on your body and your ability to move. If you simply can't move like you once could, give us a call at (662) 282-4949 to schedule an appointment! We'll have you feeling like your old self in no time!