SPORTS RELATED INJURIES
At Pro Therapy we take pride in taking care of all our local athletes.  Whether you were injured while playing a competitive sport at school or injured yourself running or playing in your local softball league the Physical Therapists at Pro Therapy are here to help.  We have programs for both injuries and prevention of injuries. Below is just an example of some of the most common sports injuries we see in Northern Mississippi.
ACL TEAR
WHAT ARE ACL TEARS AND WHAT CUASES THEM?
The Anterior Cruciate ligament (ACL) is located in the knee and prevents the lower leg from sliding forward on the upper leg. ACL tears are most common in soccer, football, basketball, and cheer along with other sports. ACL tear is more likely to occur in females versus males. Most commonly the injury will occur due to sudden deceleration or slowing down, and an abrupt change of direction with a planted foot. An ACL tear can also occur due to extreme bending of the knee or extreme straightening of the knee joint. Common symptoms of an ACL tear include sudden pop, severe pain, immediate swelling which will worsen with time, and the feeling of giving away of the knee. It is often noted that sporting fans can hear the pop!
HOW WILL PRO THERAPY TREAT MY ACL TEAR?
Physical therapy (PT) may be prescribed prior to surgery which would include modalities for pain, maintaining strength and range of motion. Following surgical repair of the ACL, one will complete physical therapy to allow for normal healing with return to sports or work duties. A few steps of prevention can be taken such as stretching, strengthening, and body awareness.
MEDIAL COLLATERAL LIGAMENT SPRAIN
WHAT IS MEDIAL COLLATERALl LIGAMENT SPRAIN?
Medial (ulnar) Collateral Ligament (MCL) sprain is often seen in athletes such as pitchers, quarterbacks, tennis, and volleyball. The MCL is located on the inner part of the elbow. An MCL sprain occurs when repetitive stress is applied to the inside of the elbow. Throwing or pitching a baseball often produces medial traction on the ulnar nerve and ligament. MCL sprains are most commonly associated with throwing motions due to overactive forearm muscles which can lead to compression of the ulnar nerve during muscle contraction.
WHEN SHOULD I SEE A NORTHERN MISSISSIPPI PHYSICAL THERAPIST?
Treatment for this condition could include: rest, cryotherapy (cold), modalities, stretching and strengthening of weak muscle. Some prevention techniques could include proper warm ups before throwing activities, stretching before/after, and modification of biomechanical throwing errors. If pain does not improve surgery may be needed. If you're a pitcher or a parent of a parent, please consider having a Pro Therapy physical therapist prescribe a quality throwing plan with strengthening of the proper musculature.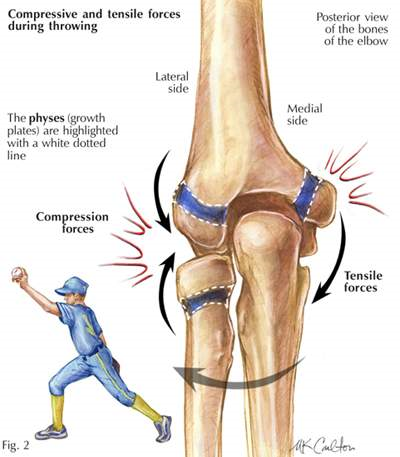 Our Northern Mississippi therapists at Pro Therapy will start by searching for the root of the problem.  Not only will we perform a full physical therapy evaluation and any needed diagnostic test, but we'll also consult with your medical doctor to find the personalized treatment plan that will suit you best.  Don't let your sports injury run your life.  Start the treatment process for your sports related injury physical therapy by scheduling an appointment or giving us a call.