30 Mar

Tricks to Commit to Your Physical Therapy Homework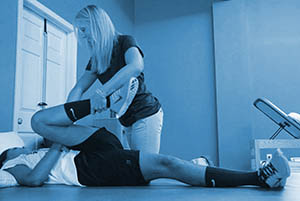 Being injured is depressing. When you've been through a great deal of pain, it can turn into stress and frustration and even feelings of hopelessness. But physical therapy offers those who have been injured hope of getting back to normal. However, if you want your treatment to work, it's important to follow your physical therapist's orders and do your homework exercises.
In fact, we consider your homework even more important than the time you spend in the physical therapy clinic. When you're not seeing results as fast as you would like, it can be disheartening, but when you're committed to your treatment, you'll be amazed at what you can do! Here are some tips to help you stay committed to your treatment plan.
Find a purpose.
If you have a clear and compelling goal for your recovery, you're more likely to stick with it. So, what do you want to be able to do? Maybe your goal is to ride a bike with your spouse, play with your grandchildren, or maybe even just get back to normal. If you imagine what kind of person you want to be and link your treatment to that image, you're more likely to work for and achieve that goal.
Be honest.
We've been doing this physical therapy thing for a long time. It's pretty easy for us to tell when you're not doing your homework. If you're honest about what you are doing, we can work with you to figure out what is holding you back. Is it pain? Time management issues? A disinclination toward exercise in general? We can modify your treatment plan to take these issues into account so that you can get moving again.
Have a strategy.
The number one reason patients don't complete their physical therapy homework is time. We all live busy lives, but if you want something badly enough, you need to invest time into it. Most physical therapy exercises only take about 10 minutes or so to do. We understand how something so brief can be easily forgotten. We find that keeping journals, setting alarms, or using apps to track your progress is an easy way to make doing your homework a habit. If you truly are crunched for time, you might consider multitasking. Could you stretch while you're brushing your teeth? Could you do your exercises during your lunch break or while you're watching the news?
Self reflection.
Part of completing your at home exercises simply comes down to being honest with yourself. Do you really want this? If you really want it, you have to deliberately ask yourself:
How am I going to do this?

When am I going to do it?

What's going to get in my way?

How am I going to deal with what's getting in my way?

Who can I call when I'm discouraged or frustrated with my progress?

What's going to make it worth it?
Finally, the last tip for staying committed to your recovery is finding a physical therapist with whom you can build a connection. Often when people say, "I tried physical therapy, and it didn't work," what they really mean is, "I couldn't find a physical therapy clinic that met my needs." At Pro Therapy we strive to create an environment that makes you feel safe, empowers you to ask questions, and encourages you to Get Moving and Stay Moving! If you're recovering from an injury (recent or from the past) and think you may benefit from physical therapy call us at (662) 282-4949 to schedule an appointment. There's no doctor's referral needed for a consultation.