22 Sep

6 Meal Planning Tips for Busy Families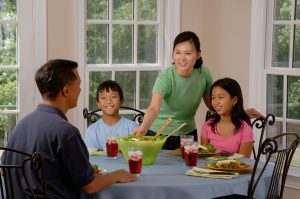 It's common sense that proper nutrition is essential for healthy living. It's also common sense that eating highly processed food everyday isn't the way to go. Unfortunately, if we don't take the time to cook our own meals, we're more likely to reach for whatever is cheap and convenient: i.e. junk food and fast food.
If we want to stick to a diet of real nutritious food, the key is to plan ahead. Weekly meal planning helps us avoid highly processed food and the drive thru lines, but for many busy families it can be a challenge. Consider these tips when planning meals for your family.
Start with what you have. There's no need in spending a ton of money  on groceries in order to plan out your meals. Clean out your refrigerator, make a list of the foods you have and start from there. Also, take note of things that need to be used quickly before they expire such as fresh fruits and vegetables.
Start slowly. Don't try to cook dinner every night and don't try more than one new recipe per week. If you do you'll likely end up spending all your time washing dishes. If you can only cook 3-4 times a week, that's a great start! On the nights you do cook, make leftovers for the next day!
Categorize your dinners. For many people starting out meal planning can be overwhelming! If you're out of ideas, try categorizing your dinners. Many of people like to have themes based on the day of the week like Fish Friday, Taco Tuesday, and Slow Cooker Sunday. Other people like to have themes based on the type of meat for vegetable they will be using. It just takes a little creativity.
Create a recipe system. Keeping your kitchen organized will make it easier to create shopping lists and gather your ingredients. Organizing your recipes and meal ideas by categories will make it easier to choose what's for dinner that week. There are tons of electronic resources you can use to keep your recipes organized, but there's also no shame in using a set of old fashioned recipe cards.
You don't have to do it all. You don't have to plan every single meal you eat every single day of the week. First, just aim for planning out dinners for the week. Keep breakfast and lunch simple by serving leftovers or by rotating between 2-3 simple meals for the week. For healthy snacks stick to fresh vegetables and fruits paired with a protein like peanut butter or Greek yogurt.
Write (or type)  it all down. When you make your shopping list, try organizing it according to how you walk through the grocery store. This may seem like overkill, but it'll actually save you tons of time and money.
Meal planning takes some time to do especially when you are just getting started. However, in the long term it can save you a lot of time, money, stress and can help you ensure your family is getting the proper nutrition.