29 Sep

5 Tips For Preventing Football Ankle Injuries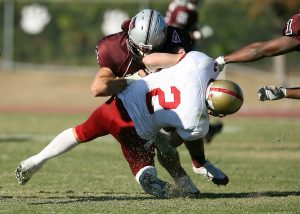 It's fall! That means it's time for football! Before hitting the gridiron, it's important to know your athlete is physically ready for the competition. Foot and ankle injuries are common in sports especially football. Thankfully, it is possible to reduce the risk of football ankle injuries by taking some precautions.
Warm up prior to any sport activity.
Light stretching or slow jogging two or three minutes prior to a game or practice can do wonders to warm up your muscles.
Choose athletic cleats that fit your foot type.
Inadequate footwear is the cause of many unnecessary foot and ankle injuries every year. People whose feet pronate or who have low arches should choose shoes that support the front of the foot and under the arch. If you have high arches, you should choose a shoe with a cushion and a softer platform.
Avoid running or stepping on uneven surfaces.
Walking on uneven surfaces is one of the major causes of ankle and foot injury in the United States. But it's virtually impossible to avoid uneven surfaces on a muddy football field. The important thing is to be aware of the terrain and look out for holes in the field.
Condition your muscles.
The amount of time your athlete spends playing sports should increase gradually over a period of weeks. This is the only way to build the muscle strength and mobility necessary to play the game safely. Jumping straight into the action after playing video games all summer is not such a good idea.
Prevent recurring injuries
Athletes who have had ankle and foot injuries in the past are more vulnerable than any other player to sustain ankle and foot injuries on the field. Some players may find the extra support of a brace or sports tape beneficial in protecting their ankles.
If your athlete has suffered from football ankle injuries in the past, it makes them more likely to suffer ankle injuries in the future. We can show your athletes how to strengthen their ankles so they don't have to sit out a game. Call us at  (662) 282-4949 to schedule a consultation today!