22 Dec

6 Sweet Potato Recipes to Try This Holiday

Sweet potatoes seem to be almost synonymous with the holidays. In fact, I can remember a time when Thanksgiving and Christmas were the only times people thought about sweet potatoes. They're a staple in holiday pies and casseroles, but did you know that sweet potatoes are also a superfood? A one cup serving of sweet potatoes contains 3 grams of fiber, 52% of the daily requirement of vitamin C, a whopping 214% of the daily requirement of vitamin A, and only 180 calories. They have also been shown to help regulate blood sugar, strengthen the immune system, and reduce the risk of cancer. So, why not try some of these lighter version of your favorite sweet potato treats this year.

Mashed Sweet Potatoes

Cover 2 lbs of peeled and cut sweet potatoes and 2 cloves of garlic with water in a large saucepan. Boil for 8 minutes or until tender;then drain the potatoes and transfer to a large bowl. Mash the potatoes. Add ½ cup of plain fat free Greek yogurt, 4 tsp of sugar, and salt and pepper to taste.

Twice Baked Sweet Potatoes
Pierce 2 medium sweet potatoes with a fork, and arrange them on paper towels. Microwave on high for about 8 minutes turning the potatoes at 4 minutes. Cut each potato lengthwise and scoop out the pulp leaving a ¼ inch shell. Mash the pulp with some Canadian bacon, reduced-fat sour cream, and 2 teaspoons of chives. Spoon the pulp mixture into shells, cover with cheddar and chives and microwave for 2 minutes.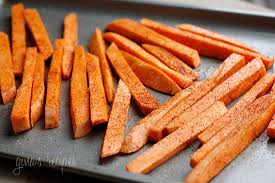 skinnytaste.com
Baked Sweet Potato Fries
Cut 3 sweet potatoes into French Fries and combine with 2 tablespoons of canola oil,in a plastic zip bag. Shake until fries are coated, and spread in a single layer on a large baking sheet. Bake for 30 minutes until crisp and brown on one side. Turn fries with a spatula and bake for another 30 minutes until crispy on the outside and tender on the inside.
Sweet Potato Chips
Preheat oven to 425 degrees. Cut ¾ lbs of sweet potatoes into ¼ inch slices. Combine with 1 tablespoon of olive oil, 1 ½ teaspoons of chilli powder, ¼ teaspoon cumin, and ½ teaspoon of salt in a plastic bag. Gently toss to coat. Arrange potatoes in a single layer on a lightly oiled baking sheet and bake about 20. Serve with ranch dressing.
Light Sweet Potato Pie
Boil 1 ½ lbs of sweet potatoes for 50 minutes or until soft. Remove the skin and blend in the blender for one minute. Place blended potatoes in a bowl and add 2 tablespoons of softened light butter, ¾ cup of packed light brown sugar, ½ cup of 1% milk, 2 eggs, ½ teaspoon of pumpkin pie spice, ½ teaspoon of cinnamon, and 1 teaspoon of vanilla extract. Beat with an electric mixer until smooth and pour into an unbaked pie crust. Bake for about an hour at 350 degrees or until a knife inserted in the center comes out clean.
Light Sweet Potato Casserole
Preheat oven to 350 degrees. Bake 2 lbs of sweet potatoes for 45 minutes or until tender and let cool. Peel away the skin and place in a large bowl. Add ⅓ cup of granulated sugar, ¼ cup of lowfat evaporated milk, 3 tablespoons of melted light butter, ½ teaspoon of salt and 1 teaspoon of vanilla extract, and two large eggs. Mix well with an electric mixer and pour into a 9 inch baking pan coated with cooking spray. In another bowl, combine ⅓ cup of all purpose flour, ⅔ cup of packed light brown sugar, and ⅛ teaspoon of salt. Stir in 2 tablespoons of melted butter and sprinkle flour mixture evenly over potato mixture. Sprinkle pecan or walnuts over the top of the casserole and bake for 25 minutes. Broil for an additional 45 seconds for a crispy topping.