12 Dec

5 Tips for Running in the Cold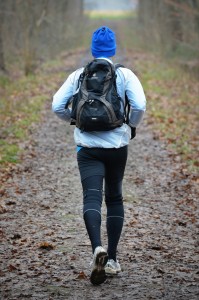 In the winter, many of us struggle to maintain our exercise routines. Let's face it. Mother nature is just not on our side this time of the year. It's cold, dark, and often wet outside, and many of us would much rather curl up with a good book or a cup of hot chocolate than go for a run. But maintaining an exercise program is important for our overall health and well being. If we put it off, we'll only end up with more weight to lose at the beginning of the year and more stress during the busy season. This is why we want to help you get motivated with these five tips for running in the cold.
Tip #1: You don't need as many layers as you think.
Once you start running, your body will heat up really quickly. You want to be warm, but you don't want to sweat so much that you get chilled. A good rule of thumb is to dress as if it were 20 degrees warmer than it actually is outside. Be sure to dress in layers and wear fabrics that wick moisture away from your body.
Tip #2: You want to be seen.
In the winter months, the daylight is very limited so much so that 6 o'clock can feel like midnight. Less light means that it's much harder for a motorist to see you. Be sure to wear reflective or fluorescent clothing. You might even consider bringing a flashlight, and don't worry so much about how you look with all this stuff on. Being safe never looks silly.
Tip # 3: You know that lung burning thing? It goes away.
If you're new to running in the cold, then you've probably experienced that awful burning sensation every time you breathe. We assure you you're not dying, and  your lungs are not going to explode. It may take a couple of runs, but once your respiratory system is used to dealing with the frosty air, that sensation will go away. You just have to stick to it.
Tip #4: Focus on distance not speed.
Running in the winter should be more about gaining miles than it is about gaining speed. If you manage a long run in the middle of the day when it is warmest, break your run up into smaller runs. For example, if you run six miles a day, run three miles in the morning and three in the evening.
Tip #5 Warm Up before you run.
Do some kind of warm up routine indoors before you go for your run. Yoga, jumping rope, or even just running up and down the stairs can make the weather seem less frigid when you walk outside.
Tip # 6: Change clothes as soon as you finish.
You core body temperature will start to go down very quickly once you stop running. To avoid getting chilled, change out of all your wet clothes, dry your hair, and grab a warm drink.
If you would like some more tips about running, perhaps you should consider hiring a running coach. Click here for more information about our coaching services or call us at 662-282-4949.