19 Dec

5 Tips for Exercising During the Holidays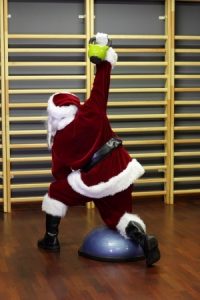 During the holidays, there are plenty of reasons to make excuses for not exercising. Many of us are busy planning meals and buying presents and therefore have hectic schedules. Also, mother nature is not on our side this time of year. The temperature has dropped and the days are shorter which makes going outside less than pleasurable. Many of us might be tempted to just put off our exercise routines until January. "We'll start fresh on New Year's," we say, but many of us are also eating more than normal this time of year. If we put off our exercise routine, we'll only end up with more weight to lose at the beginning of the year and more stress during the busy season. To keep us all motivated and disciplined, we've come up with five tips to help you manage your exercise program this holiday season.
#1 Be Flexible
There's probably going to be many more events on your calendar in the next few months. You'll have to make exercise a priority if you plan to keep at it. This means you might have to alter your routine a little. If you can't exercise one afternoon because you plan to go to a company holiday party, try waking up an hour earlier and getting your workout in before you head off to work.
#2 Time Management
With all the new events on our schedule, it's important to know what you're going to be doing and when. You might want to dust off those time management skills if you plan on keeping to your program. Prioritize your tasks and try to schedule in at least three workouts a week. Also, try scheduling your day out the night before, and squeeze in a workout whenever possible. Remember a brisk walk around the mall while Christmas shopping counts.
#3 Pay Attention to Your Body
If it's warm enough outside, then by all means take your normal run, but if it's too cold to even breathe, stay indoors. Granted there are people that run in temperatures well below freezing every winter, but running in the cold has it's own unique challenges. You'll need to pay closer attention to your extremities than your internals. Watch out for the early warning signs of hypothermia and frostbite which include shivering, slurred speech, confusion and stumbling. Also, if you have respiratory conditions like asthma, you'll need to take special preventive measures like wrapping a scarf around your nose and mouth or using a bronchodilator.
#4 Look for Indoor Solutions
If you're not a winter warrior, then don't worry about it. If it's just too cold for you outside then look for ways you can exercise indoors. Bodyweight exercises or strength training exercises that use one's own weight for resistance, are great indoor activities and can be done almost anywhere. Also consider taking up yoga, pilates, or aerobics. Consider setting up a gym in your house or join a gym if you don't have the space or money to buy all the equipment. Indoor solutions are also a great way to mix up your routine. Finding new solutions forces you to explore and can keep things fresh and exciting.
#5 Find a Workout Buddy
Having someone exercise with you is a great way to stay motivated.You're less likely to wimp out or shirk your plans if someone is waiting on you. Not only will that person be able to keep you accountable, but you'll also have their company. We can tell you from experience that being engrossed in a conversation while on a jog can make the time fly by. If you can't recruit a buddy, then consider hiring a personal trainer or running coach or try joining a group exercise class like Zumba or indoor cycling.
If you're thinking of joining a gym, we have two 24-hour gyms in Mantachie and Mooreville. Call Cory for more information at 662-282-4949.