15 Dec

5 Awesome Recipes for a Gluten-Free Holiday!

Right now, the latest trend among health food fanatics to remove all gluten from their diets. According to a Gallup poll published back in July, 21% of Americans are actively attempting to eat gluten-free diets. Unfortunately, as comedian Jimmy Kimmel has hilariously pointed out, many of those following a gluten-free diet have no idea what gluten actually is!

Gluten is the protein found in wheat. For most people, it's absolutely harmless, but for people with Celiac disease, it can be devastating. Celiac disease is an autoimmune disease where the white blood cells mistake gluten for a contaminate. The white blood cells then damage the lining small intestine by attacking the tissue while trying to destroy the gluten. Too much damage can prevent the body from absorbing nutrients.

For those without Celiac disease, there really is no medical reason  to follow a gluten-free diet. For those with Celiac disease, however, maintaining a gluten-free diet can be very difficult especially during the holidays. The holidays are a time when we bond over food, but it's hard to break bread together when the bread makes you sick.

We know people with friends and family members who have this disease, so we thought it was important to compose a list of gluten-free recipes the entire family can enjoy this holiday season. All of these recipes are taken directly from the Celiac Disease Foundation's website  which has a lot of information about the disease, tips for living a gluten-free lifestyle, places to purchase gluten-free products, and some awesome gluten-free recipes. These were just a few of our favorite!

Oreo-Stuffed Cake Mix Pudding Cookies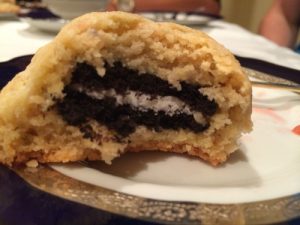 Ingredients:
Gluten-Free Vanilla Cake Mix
1 box instant pudding mix (any flavor)
2 eggs
½ cup oil
Gluten-free Oreos
Directions:
Preheat oven to 350F. In a mixing bowl, combine all ingredients until a thick batter forms.
Take a chunk of dough, and flatten it into a round disk. Place one Oreo in the center. Form another round disk of batter and place on top of the Oreo. Pinch together the edges of the disks to form a ball around the Oreo.Repeat until all the dough is used.
Place cookies on parchment lined baking sheet and bake for 10-15 minutes, or until desired doneness.The amount of baking time will depend on how large your cookies are, so be sure to watch them carefully.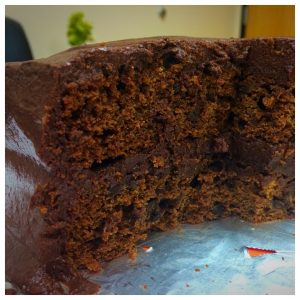 Ingredients:
1 1/4 cups milk
1 cup butter
1/2 cup unsweetened cocoa powder
2 tbsp chile powder
1 1/2 cups granulated sugar
2 cups Gluten-Free flour blend
2 tsp baking powder
3 tbsp cinnamon
3 eggs
3 tsp vanilla
Two batches of your favorite chocolate frosting
Directions:
Preheat oven to 350°F. Grease 2 x 9 inch round cake pans. In a large saucepan over medium heat, heat butter, milk, cocoa powder, and chili powder. In a large bowl, mix together sugar, flour, cinnamon, and baking powder. Add chocolate mixture, eggs, and vanilla to flour mixture and mix well. Pour batter into prepared pans and bake for 30 minutes or until toothpick inserted in center comes out clean. Leave to cool completely before frosting.
Chex Caramel Brittle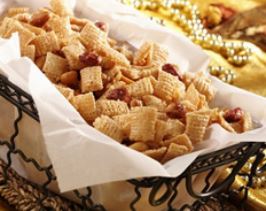 Ingredients:
8 cups Rice Chex cereal (gluten free)
1 cup salted peanuts
1 can (14 oz) sweetened condensed milk (not evaporated)
1 teaspoon vanilla
Directions: Heat oven to 300°F. Spray two 15x10x1-inch pans with cooking spray. In large bowl, mix ingredients until evenly coated. Spread in pans in single layer. Bake 20 to 22 minutes or until light golden brown. Spread on waxed paper to cool, about 15 minutes. Break into pieces. Store in airtight container
Peanut Butter Cookies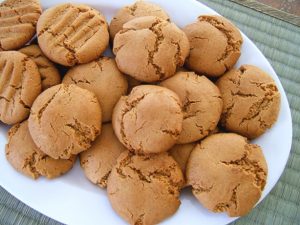 Ingredients:
1 Cup Peanut Butter
1 Cup Sugar
2 Eggs
1 Teaspoon Bob's Red Mill Double Acting Baking Powder
1 Teaspoon Bob's Red Mill Pure Baking Soda
Directions: Preheat oven to 350°F. Combine all ingredients in a large bowl until blended. Roll dough into tablespoon-sized balls. Bake 12-15 minutes.
Spinach Mini Quiches
Ingredients:
1/2 container Gluten Free refrigerated pie crust
2 eggs 1/2 cup half-and-half
1/3 cup grated Parmesan cheese
1/2 teaspoon garlic salt
1/4 teaspoon pepper
1 box (9 oz) frozen chopped spinach, thawed, squeezed to drain
3 tablespoons chopped green onions (3 medium)
Directions:
Heat oven to 425°F. Knead dough until softened and no longer crumbly. Press 1 rounded teaspoonful dough in bottom and up side of each of 24 ungreased mini muffin cups, extending dough 1/4 inch above edge of cup. In medium bowl, beat eggs. Stir in half and-half, cheese, garlic salt and pepper. Stir in drained spinach and green onions. Spoon about 1 tablespoonful mixture into each crust-lined cup. Bake 16 to 18 minutes or until puffed and golden brown. Cool 5 minutes before carefully removing from pan to cooling rack. Serve warm or cool. Store covered in refrigerator.
For more information about Celiac disease, be sure to check out Celiac Disease Foundation's website and download their Gluten-Free Holiday Recipe Guide has even more wonderful holiday goodies!